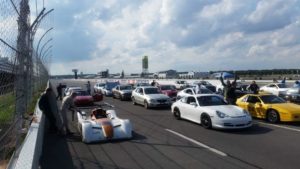 The New England Region of SCCA is excited to announce they will be continuing their partnership with the Connecticut Autocross and Rally Team (C.A.R.T.) to bring high performance driving events and Time Trials to the Northeast. CART will be recognized as an official SCCA Chapter, giving SCCA members the opportunity to participate in CART track events, and will signify an ongoing collaboration between the two organizations.
Both clubs have a long history of motorsports, with their respective roots going back to the 1950's and the beginning of sports cars in the United States. Both organizations recognized that they shared similar goals and interests, and have decided to share their experience and enthusiasm with these events.
SCCA Members looking to move up from Solo and Track Night in America events are encouraged to participate, as well as any club racers looking for some extra track time. The track day and Time Trial format provides a great stepping stone for drivers looking for a more competitive atmosphere than the average high performance driving.  Time Trial participants will be broken into classes depending on their car and its modifications, and a champion will be crowned in each class at the end of the year.
C.A.R.T. and NER-SCCA invite our members and anyone interested in driving their car on track to contact either club for more information.